I'm on holiday (or 'vacation') from uni at the moment, so have time to write some posts. I'm going to try to dedicate an hour each day to blog posting, and thought I'd examine various names from a statistical point of view, trying to identify what made the name popular in the past.

Julia was one of the members of the Roman church greeted by Paul at the end of his letter to the Romans (Romans 16:15), although she is not particularly singled out, this may have added later credence to the name as having a Christian origin, as well as a Roman origin. Julia's Roman location means it is difficult to judge whether Julia was her nomen or not, other names in the list such as Nereus, Olympas and Philologus are not, although this may be due to their Greek origin.
Saint Julia of Mérida was a child martyr of the 4th century. Her cult seems to have been somewhat overshadowed by that of Eulalia of Mérida.
It at least held the credence of being an Italian name for William Shakespeare, who used it as the name of the beloved of Proteus in his 'Two Gentlemen of Verona'. Of course, the 'Juli' name more readily associated with Shakespeare is that of Juliet, in 'Romeo and Juliet', as well as 'Measure for Measure', which is set in Vienna, though most of the characters have Italian names (Claudio, Angelo etc.). There is also 'Julius Caesar'.
The 19th century is where we can begin to quantify the usage of Julia, especially in England (where I have gathered information), but also, towards the end of the century, in USA (post-1880). I'm including most of the USA data analysis in with the early 20th century post, as its easier to see trends stretching over 70 years than over 20 years.
I'll have a little focus on USA before switching back to England. Though it is difficult to assess the popularity of Julia prior to 1880 and the beginning of the SSA records, when it entered at #26 and then fell in rank for the rest of the 1800s. This was Julia's highest ever ranking, and it is possible to presume that Julia was even more popular in the mid 19th century. A few notable Julia's emerge in this century - Julia Ward Howe, born 1819 (and the daughter of a Julia), wrote the 'Battle Hymn of the Republic', Julia Dent Grant, born 1826, was the wife of US President and Union commander Ulysses S Grant, and Julia Gardiner, born 1820, was the wife of US President John Tyler. The first two have especial links with the Union during the Civil War, and it may be interesting to see if that had any effect on regional naming practices. Julia Tyler supported the Confederates, but she seems to have been more out of the public eye by the Civil War.
So Julia's graph:
1800-9: Julia Pardoe (1804-62, writer), Julia Charlotte Maitland (1808-64, writer and traveller)
1810-9: Julia Goodman (1812-1906, painter), Julia Margaret Cameron (1815-79, photographer), Julia Bainbrigge Wightman (1817-98, temperance activist and author), Julia Clara Byrne (1819-94)
1820-9: Julia Kavanagh (1824-77, novelist and biographer), Julia Bachope Goddard (1825-96, children's author and animal welfare campaigner)
1830-9: (Frances) Julia Wedgwood (1833-1913, novelist and writer), (Julia) Augusta Webster (1837-94, poet)
1840-9: Julia Prinsep Stephen (1846-95, celebrated beauty and philanthropist)
1850-9: Julia Mary Cartwright (1851-1924, art historian and biographer), (Julia Sarah) Anne Cobden Sanderson (1853-1926, socialist and suffragette), Julia Matilda Cohen (1853-1917, community worker and educationist), Julia Frankau (1859-1916, novelist)
1860-9: Julia McMordie (1860-1942, politician and philanthropist), Julia Emilie Nielson (1868-1957, actress and theatre manager)
1870-9: Julia Varley (1871-1952, trade unionist), Julia Bell (1879-1979, geneticist)
1880-9: none
1890-9: Julia Myra Hess (1890-1965, pianist), Julia de Lacy Mann (1891-1985, economic historian and college head)
A side note about famous bearers from the 19th century. It is notable that Julia is barely used among European royalty in this period. Alexander of Hesse and by Rhine married Julia Hauke in 1851, she was the daughter of a Germano-Polish general, but was not considered of sufficient rank for any of her children to qualify for succession to the Hesse and by Rhine throne. However, her children did marry into major European royal families, include her son Henry marrying Princess Beatrice of England, and from this marriage came the later queen of Spain - Victoria Eugenie Julia Ena, and her son Louis marrying Princess Victoria of Hesse and by Rhine, a granddaughter of Queen Victoria, and bore Victoria Alice Elizabeth Julia Marie, who later married Prince Andrew of Greece and was the mother of Prince Philip, Duke of Edinburgh. In all the cases of Julia's grandchildren and so on, her name was not used as a first name, rather tucked among the various honouring names - possibly showing that Julia was not royal enough to be honoured among the first names.
Let's start with the USA, principally because there is good info available, also because my English data has a gap from 1910-44.
Julia's resurgence may be seen as it shaking off the 'grandmother' image - it begins to rise around 100 years after the peak in 1880, as well as a response to the popularity of Julie. My presumption is that Julia also received a boost from the Hispanic population, however, I am not certain whether that is correct. Today, Julia's highest popularity is in New England - #9 in Connecticut (it was #2 there in 2001), #12 in Massachusetts, not in the south-western heavily Hispanic populated states of New Mexico and California. This trend is evident from the late 1990s, and seems that Julia may have more of a 'WASPy' feel to it than Hispanic. From the 1960s to mid-1980s however, it was more popular in the mid-western coastal states moving into the mid-west, as well as the south-east, with no particular emphasis in the more heavily populated 'Hispanic' states. While Julia has maintained a presence in these states, it is much more popular in the North-east (it should be noted that Julie was never especially popular in the north-east, its popularity seems to have emanated and centred in the north-west).
Famous American Julias have included cook Julia Child (1912-2004), comedian Julia Louis-Dreyfus (b.1961), actress Julia Roberts (b.1967) and actress Julia Stiles (b.1981).
As you can see, Julia in France is defined by the borders or coasts - most popular on the border with Italy, Spain and Germany/Belgium - all areas where Julia is popular. Julia is less popular in the central regions, where I presume there is less cultural contact with regions where Julia is both linguistically acceptable and popular.
That makes a nice move into Sweden, which is another place where Julia has been exceptionally popular in recent years. Julia was #7 there in 2009, and in 2001 it was #1. It has flitted around the top 10, but is possibly now declining, which fits in with the general trend of this name. Looking at the rest of Scandinavia, Julie is more popular than Julia in Norway, though Julia is just in the top 50 and peaking in popularity. In Denmark, Julie is also in the top 20, with Julia absent from the top 50. In Iceland, Júlia is #10 of the names given to girls 0-4 years, but is absent from the top 100 of the population, so appears to be a recent import.
I'll finish Europe off with the UK . My data is primarily for England and Wales, this graph shows from 1944-2008. I have information for every 10 years from 1944-94, and then every year from 2003-8. Like my previous UK data, this graph shows ranks rather than % of population with such a name.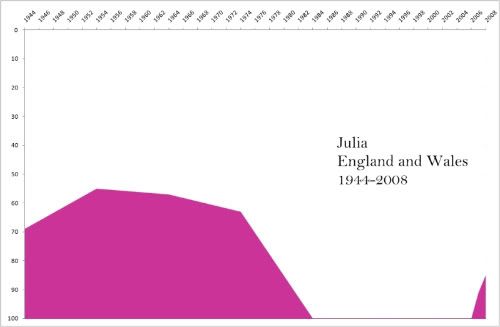 Julia is steadily in the bottom half of the top 100 from 1944-74, it then drops out of the top 100, only reappearing in 2007, and climbing slightly in 2008. It will be interesting to see if Julia climbs any more in 2009. Julia is much more peripheral in the 20th century than in the 19th. It also interesting that it does not follow the same trend in England and Wales as it does elsewhere such as USA and Germany - rising in popularity in the 1980s, and now beginning to decline.
Julia was #79 in Scotland in 2009, falling by 10 from 2008, and #69 in Northern Ireland, rising from #97.
Here is a handy map to help see where Julia is popular throughout the world: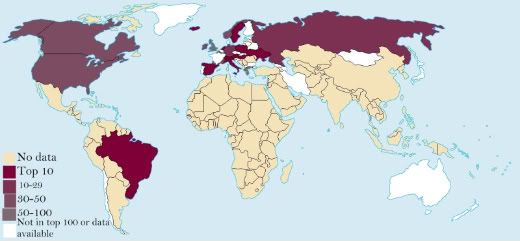 I think the general trend is popular in Germanic-speaking countries, fairly popular in Romance-speaking countries, and not really that popular in English-speaking countries. Yuliya is popular in Russia, and Yulia in Ukraine, and Giulia in Italy. I included these stats as I think they are close enough to Julia to make an impact (but did not include Julie names).
So how would I define Julia? In Roman times - a regal family name, in medieval times - cultic and Christian, in Renaissance to 19th century - literary, surviving on real people as a family name, in the 19th century, being adopted as a first name in English-speaking countries but not by royalty, and in the 20th century we can see its international spread and current popularity.